The empty chairs,
the empty halls,
children come and gone.
And Attila's come, he's come.
It's four in the 'noon,
the bloods dried, the women cried,
violence done, he was satisfied.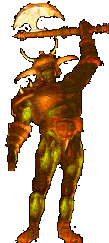 And now, he lies, he lies.
Faces broken in rips and tears.
The shattered glass, the wasted years.
Scarlet stains, the wounded, slain,
and Attila reigned, Attila claimed.
The Hun or Hulk or burly bear
has come, had come but, come from where?
For in their castles, kings and folk
had walled him out, they'd never spoke.
In solitude and drink and song.
They lived their lives,
their walls so, strong.
And no one knew Attila would, Attila could,
come to ruin their little worlds
forfeit their lives, his rage, unfurled.
Now, who can count the pennies
in another man's purse?
Who sees its wrenting threads,
with seams about to burst?
And who knows his secrets, those depths dark and cursed?
Who? Yes, Who, just Who drives the hearse?
So, they kept their secrets,
they emptied bits of ale
And swallowed up their sweet cakes
and their safety couldn't fail.
And now, this very afternoon
a devil that they knew,
plundered with his horsemen,
through and through and through.
He came from out there somewhere,
beyond their castles neat.
He came from walls of somewhere,
walls they'd never meet.
And when he broke his own down,
he came to takes theirs too!
With little men of little hurts
and the things he had to do.
In the quiet grew his hollow.
In the quiet grew his ache.
In the talk less talk of many,
grew the pain he could not, would not, forsake.
And somehow here at four today,
Attila rose to roar.
He broke in many pieces,
and he took this castle o'er.
He broke, he broke and when he did,
he took them cruelly with him.
And left some to tear, to fear, to die
and yet, others to deny
and lie of all they'd seen and heard.
April 19, 1972

By
Lady LaMythica
©
Author's Commentary
Back To Terror Of The Dungeon Poetry
All rights reserved world wide 1999-2017 ©Linda A. Copp, LadyLaMythica.com