Deserted Streets
Walking down deserted streets,
Winter on the trees.
Looking glasses come and gone
and all the same somehow.
The beginning, the end,
the twists, the turns, the bends.
And Winter on the trees,
all the snowy, icy leaves.

Now, all the candied houses
have melted long ago,
just airy lacey dreams,
just myths and drifts of snow.
Castles left their doors unlocked,
and maulers came to paw
and for all the raping, scraping done
there isn't any law
to guard their empty chambers from
gawk'ers come to stare.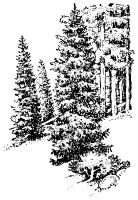 Deserted Streets, Deserted Streets,
and no one living there.
And Winter's on the trees.

Ah! All the icy leaves.

Well, its all somewhere behind me,
and still its just ahead.
Like the thrashing of the waves inside,
come crashing through my head.
They will to steal my secrets,
the whispering depths I know.
Echoing my onliness,
the shadow, shape I know.
Stony, cold and silent
there isn't any time.
No reason for my winter.
No reason for my rhyme.
It's all my waste of mind
it's all a waste of time.

And Winter on the trees.
I keep trying not to freeze,
But the chill is coming soon,
some tomorrow afternoon.

Yet, I keep fighting off the trees,
the airy, icy leaves.

But I'm not sure at all,
that come next winter, fall.
I won't of left those ruins,
these ruins after all-
I won't of seen the turn
of time to burn, to burn.
left oh me, time to burn.
Left of me, time to burn.

March 1973
Lady LaMythica
Linda A. Copp ©1973-2015
---



1999- 2014©ladylamythica.com
All Text and Text graphics By Linda A. Copp © 1997-2014
Lady LaMythica All Rights Reserved, World Wide
1999- 2014©lamythica.com
Graphics Web Clip Empire by Xoom and Masterclips Collection by Imsi
and castleclipart.