Parables of Pleasure

Parables of Pleasure
Rasputin's Devil Coat.
Brutus in his finery,
His bloody, scarlet coat.

The Blackened Coach of Plenty
Drags horses Trick and Treat.


Skeletons are trampled on
And left there in the street.
The walls of mist and black soot
Come rushing round your nose,
Smothering your worldly gains
And the way you chose.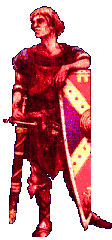 Brutus sits there brooding.
Rasputin spits and sighs.
Suddenly, there is no ground
There's nothing and no sky.
Your lost in bits of something
But, your much too lost to see -
Your much too lost to know anything
Your much too lost to be.

And looking out the window
Of the mansion that you stole
You see no street lamps flickering
It's dark and burnt like coal.
So, back to bed before you wake
And back to sleep to be -
And when the sunrise comes again
You'll be back to bleeding me.
April 9, 1972©
Lady LaMythica (Linda A. Copp)
1999- 2015©ladylamythica.com
All Text and Text graphics By Linda A. Copp © 1997-2015
ladyLaMythica All Rights Reserved, World Wide.
Graphic from Nova 600,000 collection and Web Empire by Xoom
and clipartcastle.com