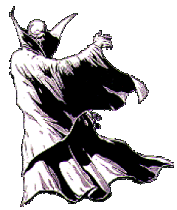 Passages of winding times,
and things I'd like to say.
Come gathering o'er the windy hills,
and I've come home to stay.

There is no one to reach me ,
no one to even try.
The echoes and the silences
have swallowed up my sky.
And all the faces of yesterday,
the happiness, I felt.
Well, it's come to go most certainly,
there's no one here about.
And oh, to chase the scare away
which covers up my brow.
And oh, to erase the reason
for the feelings, I feel now.
And oh, to take the brightest star
and chase the tears away.
To take the fright within me
And turn it to laughter's play.

But, the fear has grown within me,
it clutches at my throat.
It preys upon the darkness,
as if daylight wore no coat.
And it creaks upon the stairway,
A time I now, recall.
Has left me dying silently
behind this stony wall.
And the night,
it owns the devil,
as he comes dancing by.
He mocks me with his smirk and glare,
he haunts and taunts, I cry!
Screaming out, tortured o'er
these truths I can't deny!
He dogs upon my footsteps,
he tells me to recall -
Rapes me again, I'm bleeding-
through this now, crumbling, tumbling wall.

Yet, he's no more responsible
than the fear I swim in to-
this hell I'm going through
That naked part of you-
just my conscience, after all.
As guilt becomes the guiltier,
And fallow to my heart.
It rips my soul apart.
And the devil dances on,
my sins he preys upon.

And the stifled scream within me,
Shakes my being through-
As I reach out to no one-
there's no one to talk to...

Only God...

God I'm here and facing
the shattered bits of me.
My God I am embracing thee
in this desperate Agony.
Please, come and comfort me
in my dark uncertainty.
And Please Keep me Lord
until my sleeping strength
has come to turn my quake and shake
to peace, to numb.

The morning light will break,
this spell, this ripping, heartache born of hell.
And all the bliss within the earth
will come to soothe my sky.
For the sins, I've sinned
are left to be to wither, lie and die.
And from this hell to empty,
from empty to the numb.
And from numb unto new beginnings
and new fears-
And all that's yet to come-

1974
Lady LaMythica


By Linda A. Copp ©1974-2015
1999, 2015© ladylamythica.com
All Text and Text graphics By Linda A. Copp © 1997-2015
Lady LaMythica All Rights Reserved, World Wide.
Graphics Web Clip Empire by Xoom and Masterclips Collection by Imsi
and castleclipart.