Pirates Puzzle
for Ages 3 and UP!
Pirates Puzzle
for Ages 3 and UP!

Our "Pirates Puzzle for Ages 3 and UP"
created by Doug and Melissa is one of their quality, educational toys.
This wooden puzzle has wooden interlocking pieces for durability.
They fit inside the wooden framework of the puzzle
which holds them in place, making it easier
for kids to assemble as they cannot slide
giving them a definite workspace to place the pieces of the Puzzle together.
This puzzle features a Pirate ship sailing the seas
with many pirates aboard!
This puzzle has 48 pieces and is 15 inches by 11 inches when completed.
Doug and Melissa puzzles are vivid in color and detail and durable.
You will be doing these puzzles for years to come!
Puzzles help develop eye and hand co-ordination.
$9.99
Ages 3 and Up
---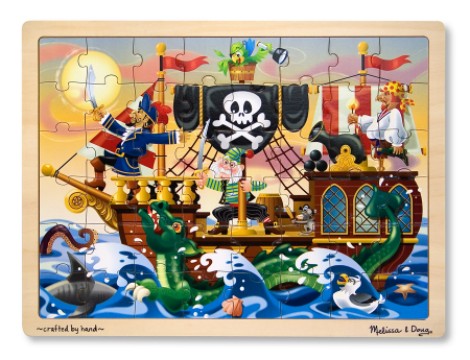 ---
DMWOODPIRATESPUZ01
Pirates Puzzle for 3 UP Basket $9.99
---
We accept Credit Cards and check payments
using the secure encrypted services of PayPal!

You Do Not Need a Paypal Account to use their secure services!
---
Pirate Puzzle Baskets
or
Puzzle Baskets
---

Or if you prefer to pay with a bank or postal money order
email us

sunniebunniezz@aol.com
and we will make special arrangements!
---
All these puppets are available in the continental US only!
Alaska and Hawaii

or Canada
and Great Britain email us to order!
sunniebunniezz@aol.com
As special shipping is required!
---
---
---
---
---

Fly Home

Eggsite

Activities

Puzzles

Links
---
Except where otherwise © owner indicated on Copyright page. All copy and graphics in this site are © including but not limited to 1996-2007 SunnieBunnieZZ
All Rights Reserved, World Wide Comments, observations and suggestions Contact