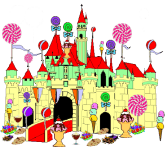 The Lollipop Castle gleamed in the sun.
The morning just started and so had the fun.
Strawberry cloudbursts covered the sky
As chocolate rabbits saluted,
waving, with bunnie ears high.

Then the swans on the lake
began their sweet glide
their smooth graceful beauty,
they just couldn't hide.

And awakening the lakes
in their midnight blue dress
they were the keepers
of peace and no less.
So, happy this hour of dawn and delight.
Merry the music of guardians bright.
Loving the moment of fantasy true,
watching the cloudbursts way up in the blue.
The Lollipop Castle and


its sleeping children
rose from their slumber,
opened eyes, then -
ran freely into wonderland's street,
and into the Garden of Wishing on feet
that ran all the faster for all dreams came true
that felt all the freer for beauty came too!


God watched His children
and tinted the ground,
in sunbeams and magic
and the beauty they found.
And He and His angels
were busy all day
Watching His children,
their garden, their way.

As the carousel stood turning,
whirling, round and around.
Its music box twirling,
its pure magic sound;
Filling its listeners with its great joy,
their laughter, till truly it be
the perfect found poem of believers who see -
that goodness and dreaming can certainly do
A lot for our kingdoms
and these children who knew,
the loveliest thoughts can come from within
And they be the ponies of hope there within.

So, prancing ponies strut up and down
keeping your heads high, know not a frown.
For you hold the cup of kindness and good
You hold our children you horses, of wood,
And they be tomorrow of now, any land
They be the promise of love in all lands.
By Linda A. Copp
©April 10, 1970