Famous Puppets

And Puppeteers!
The Jerry Mahoney Show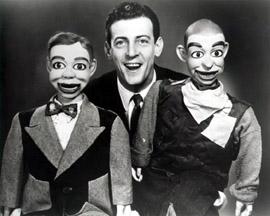 Jerry Mahoney, Paul Winchell, Knucklehead Smiff


Paul Winchell, the voice of Tigger in
Walt Disney's, Winnie The Pooh cartoons,
once lent his voice and talents
to that well known children's star of the fifties,
Jerry Mahoney and his sidekick Knucklehead.

Paul Winchell was inspired to become a ventriloquist after seeing Bergen and McCarthy in the 1937 film, Goldwyn Follies. Shortly thereafter he made his first appearance on the Major Bowes Amateur Hour using a dummy he made with the help of his art teacher Jero Magon, for whom he later named Jerry Mahoney. This act, an impression of Bergen and McCarthy, took first prize and at age 14 Winchell began to tour with the Amateur Hour traveling unit. By the time Winchell had his own radio program in the mid 4O`s, he was a well-seasoned entertainer and a natural for the emerging medium of television. By the early 50ís, Winchell and his wooden partners Jerry Mahoney and Knucklehead Smiff were stars of their own prime-time show on N.B.C. Interestingly, Winchell had almost failed on T.V. until it was discovered that the reason Jerryís voice couldnít be heard was due to the boom operator directing the microphone toward Jerry in the mistaken belief that the voice was coming from the dummy.
From the start, Winchell searched for new ways of exploiting television's visual possibilities. Having studied puppetry and design, Winchell wanted to make Jerry more than half of a talking head comedy act. An inspiration came as the result of a visit to an Atlanta veterans hospital where Winchell was fascinated by the sight of two patients who were each missing an arm. These two men functioned shoulder to shoulder with one man supplying the right arm, the other the left. The effect was jarring; two hands perfectly coordinated by what almost seemed to be a two headed creature and this gave Winchell the idea that, with additional operators and careful rehearsal, Jerry could have "living" arms. Initially Winchell used prosthetic hands, capable of grasping objects. A further refinement occurred during rehearsals for a boxing skit when difficulty in fitting the boxing gloves over the prosthetic hands caused the frustrated operator to merely insert his own hand through the sleeve into the glove. After that, cotton gloves, dyed flesh color were used and now Jerry had fully articulated fingers, opening up endless possibilities. Jerry played drums with Louis Armstrong, did a seated tap dance with Winchell and even had a food fight with Knucklehead on Lucille Ballís show. In one uncanny sequence, Jerry and Paul, seated side by side, perform a tune on the hand bells. Paul Winchell was, on live television, successfully combining human and puppet characters within the same frame. The effect was as compelling as seeing cartoon and human actors interact, as they did in the Disney and Fleischer animated films of an earlier generation.
The 1960 film STOP, LOOK, AND LAUGH was a showcase for the puppetry techniques developed by Winchell. In the mid 6O`s a childrenís program, WINCHELL-MAHONEY TIME was a huge success. Gradually the puppets began to occupy a world that was less dependent on Winchell's human presence. New characters and puppet techniques were developed including a character initially known as Ozwald and later revived as Mr. Goody-Good. Ozwald is a fascinating variation on the "humanette" idea. Inverted eyes and nose are painted on Winchellís chin and a special mask resembling a body is placed over Winchell's nose, eyes, and hair. This image, when turned upside down by the T.V. camera and played against a black background became an energetic little bald fellow made all the more fascinating by the presence of Winchell's very expressive mouth. A home version of this idea was marketed, complete with mask, script and a special reversing mirror.
In the years after WINCHELL-MAHONEY TIME, Winchell turned his attention to other pursuits including pioneering work on the artificial heart. Winchell was also in demand for character voices including the role of Tigger in Disney's WINNIE THE POOH. Sadly, all the videotape of WINCHELL-MAHONEY TIME was erased in a contract dispute but years later Winchell won a multimillion dollar settlement after an in-court statement by Jerry Mahoney himself. Now retired, Winchell lives in the Los Angeles area and is working on a re-issue of his book on ventriloquism, now considered a classic, as well as his autobiography. His enduring contributions to the puppetry arts are evidenced by the countless numbers of puppeteers he has inspired.
When Paul was a young boy, he was stricken with Polio. Back in the pre-Salk/Sabin days, it was a horrible, all-too-prevalent disease and he had it. Confined to bed, he kept his young mind occupied by clipping coupons in the backs of magazines...anything where you could send away a dime and get back something interesting in the mail. Magazines used to be full of such ads and, one day, young Paul found one about becoming the Life-of-any-Party by learning to throw your voice. It sounded no dumber than the other things for which he was sending...so he dropped a dime, received a booklet and soon after found himself waist-deep in a hobby and eventual career.
For months, he practiced ventriloquism as taught by the pamphlet. He got to be very good...and he would later credit the hobby (soon to be a career) with a beneficial impact on his spirit and, therefore, his health. By the time his physician told him he had the Polio licked and could begin leading a normal life, the first thing he wanted to do was to build a ventriloquist dummy and perfect his act. He would later credit ventriThe multi-talented ventriloquist Paul Winchell and his sassy wooden sidekick Jerry Mahoney appeared on a number of television programs among them CARTOONIES/ABC/1963, a 30-minute cartoon series with Gremlin, Sheriff Saddle Head and Scat Skit cartoons; POPSICLE FIVE STAR COMEDY/ABC/1957, a short-lived musical/variety late afternoon show; RUNAROUND/NBC/1972-73 a Saturday morning game show where nine children answered questions and competed for prizes; and TOYLAND EXPRESS/SYN/1955-56, a 15-minute weekday show produced by the Toy Guidance Council that advertised items available for Christmas. But perhaps, their most memorable program was THE PAUL WINCHELL AND JERRY MAHONEY SHOW broadcast on the NBC network from 1950-54 both in prime time and on Saturday morning. Set in Jerry Mahoney's Clubhouse, this musical/variety/comedy featured an audience of twenty children who competed for prizes and were entertained by the antics of Jerry Mahoney, the President of the club who didn't particularly like woman; Knucklehead Smiff, a stupid, country bumpkin type (debuted in 1951) who was the club's vice-president; Irving the Mouse, a scholarly rodent who lived in a piece of cheese at the clubhouse and helped Knucklehead Smiff solve homework problems; and Paul Winchell who appeared as a variety of human characters. Paul Winchell, who debuted on the MAJOR BOWES ORIGINAL AMATEUR HOUR in 1936, became a ventriloquist at the age of fourteen after reading a manual that revealed "the secrets of ventriloquism." He built his first Jerry Mahoney dummy at the age of thirteen while working at the Manhattan School of Industrial Arts. Originally Jerry Mahoney was a hand puppet, but over time his persona was transformed from a crude dummy to a professional 42-inch wooden dummy (created by puppet carver Frank Marshall). Weighing twenty-five pounds, it was composed of wood, metal, rubber and glass eyes. During his career Paul Winchell has also provided his voice- over artistic skills to hundreds of cartoons including DASTARDLY AND MUTTLEY IN THEIR FLYING MACHINES/CBS/1969-71, GOOBER AND THE GHOST CHASERS/ABC/1973-75, THE PERILS OF PENELOPE PITSTOP/1969-71, Gargamel on THE SMURFS/NBC/1981-90 and Tigger the Tiger in Disney's Winnie the Pooh feature films. He also appeared in episode No. 7 "Lucy and Paul Winchell" on the sitcom THE LUCY SHOW/CNS/1962. Besides his talent at vocal impressions and ventriloquism, Paul Winchell also helped pioneer a working model of an artificial heart. In January of 1980, Paul Winchell presented his dummy Jerry Mahoney to the permanent collection of the Smithsonian Institute. Later in July, 1982, Knucklehead Smiff joined his long time wooden companion. Born Paul Wilchen in New York City on December 21, 1922, Paul Winchell is currently 81 years old.loquism with keeping his spirit up, giving him the will to live.
There have been many Winchell and Mahoney shows, the first on NBC in 1948 called The Bigelow Show.
Ventriloquist Paul Winchell and his hand-carved wooden dummy Jerry Mahoney introduced acts headlined by mentalist Joseph Dunniger. 1948 was the first year that the networks began programming on seven nights a week, in fact NBC had only 9 regular series on the air in 1947.
In 1949, this half-hour variety show moved to CBS, Wednesdays at 9:00 before being cancelled that same year.
In 1950, The Speidel Show (later The Paul Winchell-Jerry Mahoney Show) debuted on NBC Tuesday nights as a thirty-minute variety show for adults and kids. The series ran until 1954 and featured regular players Dorothy Claire, Hilda Vaughn, Patricia Bright, Jimmy Blaine, Sid Raymond and another of Winchell's popular puppets "Knucklehead Smiff".
In a 1954 newspaper interview, Mahoney spoke of the problem he was having with the successful show - "Gradually I found myself faced with the dilemma that comes to most ventriloquists. I was snowed under by the personality of the dummy. Mail began to pour in to 'Paul Mahoney' and 'Jerry Winchell'. I was Jerry's straight man. Everybody knew who Jerry was, but they were beginning to forget the name of the guy who operated him. To that extent it was jealousy."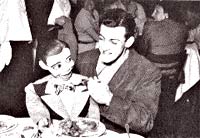 The show was moved to Sunday nights in 1953, and in 1954 was renamed Winchell and Mahoney and moved to Saturday mornings. NBC had the bright idea of posting kid shows on Saturday mornings (it'll never work) and the Winchell show was one of those first efforts. The show featured band leader Milton DeLugg ('Fernwood Tonight') playing accordion, a live audience of kids and the set had a clubhouse motif.
This series, which featured some of the first appearances of a young Carol Burnett, ended its run in February, 1956.
Circus Time debuted on ABC in October of 1956, an hour-long Thursday night show with Winchell and Mahoney back to presenting various circus and musical acts. The next year the show was moved to Sunday afternoons and revamped. The Paul Winchell Show, had Winchell back in the familiar variety show format. Frank Fontaine ('Crazy Googenhiem') and Milton DeLugg joined the series, which ran until 1960.
After that the 'duo' hosted a short-lived Saturday morning cartoon show from April through September of 1963 called Cartoonies. In 1965, Winchell and Mahoney Time was offered in syndication but lasted only one year. The duo were popular commercial pitchmen all through the sixties.
Seven years later, Paul Winchell, Jerry Mahoney and Knucklehead Smiff came out of semi-retirement to host the Saturday morning game show Runaround, so called because the nine young contestants competed for prizes by running to the squares that contained the right answers to their questions. This show ran for one year.
Guest shots followed on shows like 'Love, American Style', 'McMillan and Wife' and 'Circle of Fear'. Winchell also provided the voices for an animated special called 'The Lorax', as well as the famous 'Scrubbing Bubbles' commercials and tons of Saturday morning cartoons.

A gifted inventor and medical student, Paul Winchell devoted much of his time in the Seventies and Eighties to his inventions, which included an artificial heart and a method of transferring gasoline from one car to another.

He also continues to provide voices for cartoons today, in fact he has always been the voice of 'Tigger' in the Disney Pooh series. That is until November, 1998 when he was canned by Disney for sounding too old.

Click here
if you enjoy puppet theater
and would like to go Backstage.
Puppetry Music

If you like Puppetry you will enjoy these Poems about Puppets and Puppetry: