Treasure Chest Puppet King!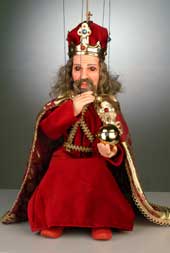 This King created by the renowned puppet artist,
Richard Kuklik of the Czech Republic,
embodies the good in all kings! His majesty impresses one and all from beggar to prince! Note the attention to detail found in his face from the gleam in his kind eyes to the wrinkles of his furrowed noble brow.
The wisdom of his rule is not lost
on his subjects! Look at the details
of costume, crown and cape. See his mustache and long hair of individual strands his hair.
His body and feet are made of wood.
His hands and head are molded from a unique sculpturing compound of non toxic materials.
He measures about 17 inches tall
and is operated through the use of a wooden
control rod.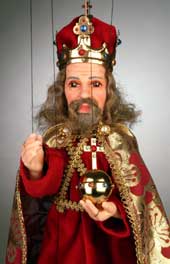 The craftsmanship and attention to detail here shines from his rich robes
of deep red to his golden, jeweled crown and orb!
Regal and commanding he could be King Arthur, Good King Wenceslas
or Good King Charles the IV,
( A fair and gentle king who brought many changes to his country
through fair laws and education.)
---
We do not recommend him for young children!
They should use the inexpensive yarn, plush and wooden 8 to 16 inch marionettes
and hand puppets found in my Toy Box selections!
---
Click on Add To Cart button below to Buy!
---
---
We accept Credit Cards and check payments
using the secure encrypted services of PayPal!

You Do Not Need a Paypal Account to use their secure services
---
Special Arrangements
Puppet prices and shipping listed apply for continental US only!
For Canada, Alaska and Hawaii
orders are arranged through email
Click this button

to order!
As special shipping is required!
---
Schools, Museums, Libraries and others,
who do not wish to pay through Paypal
Email us at



sunniebunniezz@aol.com
to discuss other arrangements!
---
Back to Treasure Chest Gallery