Treasure Chest Puppet
Smaller Krakonos
"The Hiker!"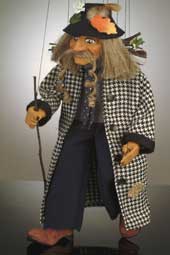 This traditional Czechoslovakian character "the Hiker" is the smaller version of Krakonos a Mystical figure with God Like Qualities that is said to inhabit and protect the Krkonos Mountains of Czechoslovakia. He was created by the renowned husband and wife team of Novotny, puppet artists, of the Czech Republic. He stands 14 inches and is ready for a lengthy walk or a steep climb up mountain passes. He is loves and is at home in the wilderness and stands guard against those who might harm it. He can build a fire quickly for warmth but he never endangers his precious trees. His long coat keeps his wooden skeleton warm.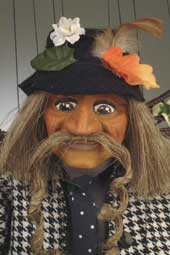 AS is always so, with the Novotny's he has a sweetness in his face that is warm and winning. He manipulates like a dream and walks easily with the movement of his wooden rod. He maybe a father figure, a woodsman, a traveler or a peasant hero.
A treasure and a steal at this price!
Costumes vary due to the uniqueness of each marionette created.
His features remain the same from puppet to puppet
but her dress may be different than shown here!
---
We do not recommend him for young children!
They should use the inexpensive yarn, plush and wooden 8 to 16 inch marionettes
and hand puppets found in my Toy Box selections!
---
Click on Add To Cart Button Below To Buy!
---
---
We accept Credit Cards and check payments
using the secure encrypted services of PayPal!

You Do Not Need a Paypal Account to use their secure services
---
Special Arrangements
Puppet prices and shipping listed apply for continental US only!
For Canada, Alaska and Hawaii
orders are arranged through email
Click this button

to order!
As special shipping is required!
---
Schools, Museums, Libraries and others,
who do not wish to pay through Paypal
Email us at



sunniebunniezz@aol.com
to discuss other arrangements!
---
Back to Treasure Chest Gallery