Treasure Chest Marionette
Czech Water Sprite
"The Waterman"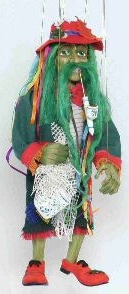 This traditional Czechoslovakian water sprite is a creation of
the renowned puppet artists and puppet makers,
The Novotny's of the Czech Republic.
He stands 18 inches tall.
His face is friendly yet, you know there is a force
to be reckoned with here!
His skeleton, is wood but his face and hands
are hand sculptured from a unique plaster compound
that lends itself to realistic expression.
His wooden control makes it a snap for him to splash through brooks
and easily walk the earth plane.
His net is filled with fish just right for breakfast,
lunch or dinner.
He frequents lakes and ponds and is a staunch
environmentalist, WATER is LIFE, His Life!
So beware ALL you Polluters!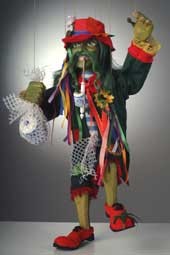 ---
We do not recommend her for younger children!
They should use the inexpensive yarn, plush and wooden 8 to 16 inch marionettes
and hand puppets found in my Toy Box selections!
---
Click on Add To Cart Button Below to Purchase!
---
---
We accept Credit Cards and check payments
using the secure encrypted services of PayPal!

You Do Not Need a Paypal Account to use their secure services
---
Special Arrangements
Puppet prices and shipping listed apply for continental US only!
For Canada, Alaska and Hawaii
orders are arranged through email
Click this button

to order!
As special shipping is required!
---
Schools, Museums, Libraries and others,
who do not wish to pay through Paypal
Email us at



sunniebunniezz@aol.com
to discuss other arrangements!
---
Back to Treasure Chest Gallery