Treasure Chest Pinocchio Marionette Puppet 17 inches!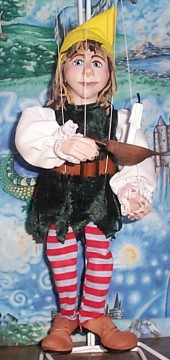 This is another version of the most famous
puppet of all, Pinocchio created by
the renowned puppet artists,
Novotny of the Czech Republic!
He measures 17 inches from toe
to top of head.
The marionette is operated through the use
of a wooden control rod.
The balance and weight of the puppet
is perfect for the rod and makes
his manipulation easy and lifelike!
He walks and sits with the slightest movements
of the controls.
His head is attached to the control rod by a wire,
yet his head turns easily adding to his lifelike movements.
The skeleton of the puppet is wood as are its carved feet and control rod.
His head and hands are sculptured from
a hardened plaster cast material. (All materials used are non toxic.)

His costume and facial expressions are more human than most typical renditions of him which usually seem more puppet than real. Yet, this version too, shows us another side of Pinocchio's boyish charm as his youthful eyes invite us to join him on his adventures. This figure can be used as the poor boy hero in many plays, playing Jack in the Beanstalk to our Giant Green Waterman piece. He also is great as the miller's son with our Cat in Boots play based on the traditional fairy tale!
Costumes may vary in color or sometimes in fabrics!
These are handcrafted pieces which gives them their
individuality!
---
We do not recommend him for young children
They should use the inexpensive yarn, plush and wooden 8 to 16 inch marionettes
and hand puppets found in my Toy Box selections!
---
Click on Add to Cart button below to buy!
---
---
We accept Credit Cards and check payments
using the secure encrypted services of PayPal!

You Do Not Need a Paypal Account to use their secure services
---
Special Arrangements
Puppet prices and shipping listed apply for continental US only!
For Canada, Alaska and Hawaii
orders are arranged through email
Click this button

to order!
As special shipping is required!
---
Schools, Museums, Libraries and others,
who do not wish to pay through Paypal
Email us at



sunniebunniezz@aol.com
to discuss other arrangements!
---
Back to Treasure Chest Gallery