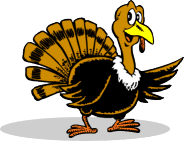 Thanksgiving Day Riddler
Solutions
You may answer the riddles by filling in the right word.
I am a bird but never flew
I love to gobble but would not eat you.
G.

Turkey?
I once used my bow hunting buffalo
and slept in a tee pee with Geronimo !
E.

Native American or Indian?
I am a vegetable with yellow bits inside,
kernels on the cob but green stalks outside.
A.

Corn?
The pilgrims landed here and called it home
a stone in my name and a mouth my own.
K.

Plymouth Rock?
I am played with kicks and tackles
passes, hits and downs.
Quarterbacks and Tacklers know my name.
I am a game won with touchdowns!
C.
Football?
I am a horn of plenty
but have another name
filled with food like fruits and vegetables,
nuts and breads and grains.
D.

Cornucopia?
I am very solemn and I dress in black,
wearing buckled shoes and bonnets
or wide brimmed buckled hats.
I came to America struggling to be free
to practice religion as I felt it should be.
F.

Pilgrims?
I am a day of the week you see
between Wednesday and Friday and begin with T.
J. Thursday?
I was the boat the Pilgrims sailed on.
A month in my name and the rest,
well a rose is one.
B.

Mayflower?
I was never human, just a straw man hung
dressed in humans clothes to frighten some.
Like the black birds circling over head
waiting to peck at my gardens and be fed .
H.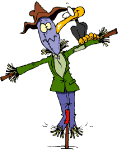 Scarecrow?
I come one thankful day a year,
the fourth Thursday in November is this day of prayer.
I.

Thanksgiving Day?

Now, the riddling finished.
It has all been done.
Happy Thanksgiving Day
To Every One!
The End