I'm waiting and I've been waiting
for such a long time.
It's Fall once again
and the chilly sky
is beginning to tell the leaves
to listen.
Autumn will come and she will go so quickly,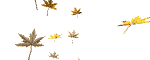 And, in her passing will be,
barren trees, skies, cold rocks,
dead tattered leaves,
and the chill,
Like so many Autumns, so many Falls
before her.
Oh! I remember them well.
Can I ask my melancholia,
to bid farewell?
No.
For she is as much a part
of my old friend,
as I.
Yes, it's Fall.
my friend has come
to hold hands again,
and to ask what's new.
And I respond, promises my friend,
so, many promises.
Yet, she asks why,
Why I still wait,
and wait and wait,
And I tell her,
time, she is the answer,
- and she tells me stay.
The disappointments come and go
and the days bring me here
It is only the promises.
which have changed,
Not I.
I am as I was before,
when then I watched,
and waited.
Yes, then she was my crying Mother,
my friend,
my comforter,
my sad eyed solace,
And I remember -
too, well!
But, I tell you Miss Autumn,
it's Tomorrow,
I now have a Tomorrow,
a beginning .
I have only but to wait.
By Linda A. Copp ©
---