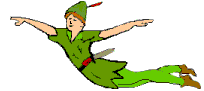 Peter Pan flew o'er the window sill
When the stars were light and the lakes were still.
And then when the dark had settled down
He'd rise to his feet in boots of brown,
jump to the sky in one big leap
Fly o'er the valleys, mountains steep.

Winding through the night winds arms,
Followed by a light of fairy charms,
That danced and tumbled as it flew
Throughout the midnight sky of blue.


The lamp that followed was Tinkerbell.
A piece of sun that rose and fell.
And when it did it drifted down,
'Pon Peter's path she'd been found.
And from that day to this, she followed him,
Through flight or walk or there within.
And in her piece of sky blue dress,
She winged with him in happiness.
They together brought forth the tale,
Of youth and magic to the frail,
The tiny children who listen still,
And never seem to get their fill.

So, Neverland was brought to be,
Within their minds, their hearts to see,
With Indians and crocodiles,
Pirates, children, scares and smiles,
Wooden swords, ships and planks,
Peter Pan, the Prince, outranks,
Tinkerbell her glowing light,
Adventures lived both day and night.
Neverland was adventure's home,
Where heroes defeated all dangers sown.
Where troublemakers met their doom,
By Peter, the leader, and the Lost boys whom,
Dreamt their dreams o'er and o'er
Kept their youth forevermore.

The hollowed tree trunks housed the good,
Peter, the boys beneath their wood,
Nestled under the Pirate's eye,
The Indian's path, the bird in sky.
Branch bound beds and warm stoked fire,
To keep out the dew that fell much higher.
This enchanted isle of poems and prose,
Adventures, dreams and hidden rose,
Remains a piece of fantasy,
Faded and kept in one's memory.

Peter Pan the bravest lad,
Cherished by the good and bad

Skimming over the seas, the skies,
Smiling at our g1eeful cries.

In feathered hat and leather belt
Wooden sword by your side is felt.

Yes, in leotards and shirt of green
You're the bravest, booted child I've seen.

Your youth and wonder has to be,
A treasure stolen by the pirates, me.

And kept forever within our grip,
Till you reclaim it on some future trip!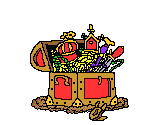 May 3, 1970
By Linda A. Copp ©