Santa's Lamb
By Linda A. Copp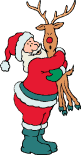 St. Nicholas knew a little lamb
whose fleece was white as snow
and everywhere that St. Nick went
this lamb was sure to go.
For you see, it was
"The Christmas

Lamb."
who so, many years ago
was sent by the Christ Child
to spread the word,
He had lived and died
to save our immortal souls.
This little lamb, a symbol of
Christ's spirit to this day,
walks with Santa and ALL of us
to remind us still today
to keep Christ in our Christmas
and in our wishes
for He's the true meaning
of the HOLIDAY!
By Linda A. Copp
December 17, 2001