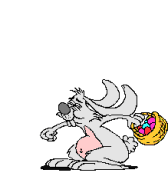 Bunnie Hoppin'
By Linda A. Copp
It's that Bunnie Hoppin,
time of year my friend!
When "The Easter Bunny's"
leapin' down the trail again.

Eyes are poppin',
Ears are floppin',
he'll be stoppin' soon!
And we'll all be eating his sweet treats
by Easter Sunday afternoon.
Yes, It's that Bunnie Hoppin',
time of year again,
When
Everything is Springing up
and beginning once again!
By Linda A. Copp
March 17, 2001
---
Happy Easter Everyone!
---
---
Click on picture to see larger photo,
price and details on these cute puppet!



Marionettes




Or see all bunnies at this LINK by clicking on this photo
!
---
---

Poet's Page

, Seasonal, Geography, As Is, Elder's, Spiritual
---
Poetry: Films, Music and Links
---
---
Except where otherwise © owner indicated on

Copyright page All copy and graphics in this site are © including but not limited to 1996-2017 SunnieBunnieZZ
All Rights Reserved, World Wide Comments, observations and suggestions Contact