I Hear Somethin' Thumpin'
By Linda A. Copp
I hear somethin' thumpin',
bumpin, pumpin', jumpin'!

Could it be the Easter Bunny
bringing goodies for my tummy?
Baskets filled with peeps and chicks
and jelly beans I likes to licks.
Chocolate rabbits taste the best
And Egg Hunts are the most fun-nest!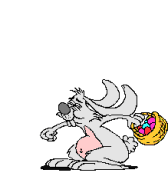 So, bring your Easter yumminess
upon big feet of bunnieness!
And have a thumpin', jumpin' Day
on this Hippity, Hoppin' Holiday!
Happy Easter Everyone!
By Linda A. Copp
March 9, 2001
---
---