Children have their nymphs and elves,
brownies, changelings, tinkerbells.



Leprechauns and little folk
appear to them to laugh and joke.

Hiding, scampering all about
'some folks is short and some is stout'.
Flying through the sun drenched air,
sitting, in the treetops where,
They may fall on clouds, rocks and dew,
under the flowers and the tables too!
These little people watch them play
they listen, linger, like to stay
Wherever make-believe is found
whether spent in cellars, or 'bove ground.
Turned up noses have to be
wherever there is fantasy.
And laughter holds them prisoner
catches them for what they were.
Puppets, people, smiles and fun
fantasy and make-believe, yet to some,
Makes them a part of fairy tales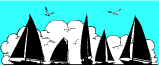 of every boat the wind set sails.
To every pretending
light young toll
they give their heart,
they give their soul.
So, remember when children play about
they needn't be quiet, they needn't shout
For their pixies hear them, soft or loud
above the sun, the sand or cloud.
And they'll protect them from all harm
with pixie dust and pixie charm.
Guard them from unwanted pests
and lend them to their happiness.
By Linda A. Copp
©October 13, 1970
---